"The Blues Brothers"-John Landis (1980)
By Chris Middlehurst
Published on November 15, 2016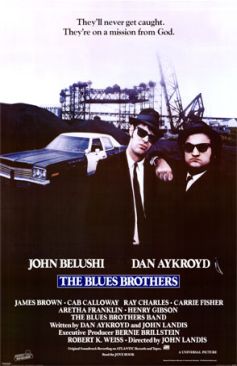 It is very hard to make a film that lives and breathes the joys and energy of youth, probably the reason why so many of the best films about youth are made by older, more mature filmmakers. Take Andrea Arnold's American Honeys, Larry Clark's Kids, or even Francois Truffaut's Les 400 Coups and Terence Davies' The Long Day Closes. And I for one would add John Landis' The Blues Brothersto that list. Like Gone with the Wind or The Birth of a Nation, it is a film I had heard much about but never gotten around to seeing until just a few days ago. And boy oh boy did I enjoy it. It is one of those cult midnight movies that I love to come across every now and again, the ones that I can never remember the plot, how they began or how they ended, only some perfect marriage where what I was drinking and what I was watching made one. Some films are made to be seen sober: not this one, which can only be truly appreciated by its viewers when served with a generous dosage of lager and a roomy doggy bag.
You know that a film is destined for greatness when its lead protagonist is beaten by a nun and then cries out, "You fat penguin!" The actor delivering that line is Dan Aykroyd, and his utterance of that line reflects the whole success of his performance. Whereas another actor might have screamed it in ridiculous hyperbole, Aykroyd's is a genuine cry for help that comes from the heart: never for a minute do we suspect that the character is aware of the absurdity and madness around him. That is what makes the film work: the brothers are never in on the joke.
To watch Aykroyd recoiling from a violent religious woman is a joy to behold, but I was also impressed by Belushi: for an actor who earned his acting pedigree as Bluto in National Lampoon's Animal House and as a guerrilla gorilla in Trading Places, he here seems born to play dead in the pan. In one of many song-and-dance routines, Belushi and Aykroyd join in, do their bit, then sit back and hang about in the background. The generosity here of these two actors in fading into the background for the character actors, bit players and extras to steal the scene is commendable, and allows for a communal, friendly atmosphere to develop.
Each performer gets their chance to shine in the spotlight, and with a queue of cameos that include Richard Pryor, James Brown, Ray Charles, John Candy, Charles Napier and John Lee Hooker, Landis does a fantastic job of ensuring that each cast member shines. I would perhaps have liked to see more of Carrie Fisher as a resentful ex- who spends most of her screen time trying to bazooka the brothers into oblivion. And let's not forget the wonderful soundtrack, where even the doorbells of houses seem to have been composed by John Lee Hooker and friends. Everyone remembers a rendition of Rawhide that wins over the rednecks in a bar. If only it were that easy in real life.
John Landis is not a filmmaker known for his restraint. In interviews he strikes a jolly, larger-than-life figure, but like his films he can also be loud, obnoxious and frankly quite glib. But here I feel more strongly than with any of his other films that I have seen that he manages to contain the lunacy of the film just enough to make it palatable. I imagine that Buster Keaton's 1927 classic The General was a huge influence on this film in particular: despite the numerous explosions and pile-ups, there is a deadpan centre in both those films that just about prevent them from going off the rails. The restraint in the performances in The Blues Brothersis the most surprising nugget to be found in this crazy baloney goldmine of a film. And in the inspired casting of Belushi and Aykroyd, Landis struck gold.
The Author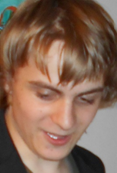 Chris Middlehurst is The New Jurist film review editor. Chris graduated from Leeds University with a BA in English Literature, where he served as President of the LUU Film Making Society and also took elective modules in Chinese, Italian and World Cinema. He currently lives in Leeds and volunteers regulary at the wonderful Hyde Park Picture House, where he urges film lovers to visit if they get the chance!
Article picture: Wikipedia.