Man's Inhumanity to Man
By David Osborne
Published on March 11, 2016
As I have commented many times before, I admire many things about the United States and the American way of life. I love their pastrami on rye sandwiches and their open society. That said, America and I part company over their criminal justice and penal system, and in a number of egregious cases, its unforgivable barbarity.
As its latest example, I refer to the case of Albert Woodfox, the longest-serving solitary confinement prisoner in the US, held in isolation in a six-by-nine-foot cell almost continuously for 43 years. As if it matters, as it's way too late to make amends, he has just been released from a Louisiana jail. Louisiana is one of those 'deep south' states still coming to terms with its black population and equal rights, a concept that makes for uneasy bedfellows and one that has been honoured more in the breach than the observance, and yes, you guessed right, Albert Woodfox is black.
For the duration of those 43 years, Woodfox was confined to his cell for 23 hours a day. In the single remaining hour, he was allowed out of the cell to go to the "exercise yard" – a small area of fenced concrete – but was shackled and kept alone there as well.
Last November a judge with the federal fifth circuit appeals court, described the conditions of Woodfox's confinement. "For the vast majority of his life, Woodfox has spent nearly every waking hour in a cramped cell in crushing solitude without a valid conviction," he said.
In a statement released by his lawyers, Woodfox said that he would use his new found liberty to campaign against the scourge of solitary confinement that at any one moment sees 80,000 American prisoners being held in isolation. "I can now direct all my efforts to ending the barbarous use of solitary confinement and will continue my work on that issue here in the free world."
Scientists have long warned about the dire effects caused by solitary confinement on prisoners even after a few days of such treatment, and several international bodies including the UN have called for it to be banned as a form of torture. The American Supreme court has also spoken out about the practice, remarking that the side-effects of prolonged isolation include anxiety, panic, withdrawal, hallucinations, self-mutilation and suicidal thoughts and behaviour. But to what effect? There are none so deaf as those who will not hear.
Woodfox's attorney said his client's decades-long isolation was indefensible. "Albert survived the extreme and cruel punishment of 40-plus years in solitary confinement only because of his extraordinary strength and character. These inhumane practices must stop. We hope the Louisiana department of corrections will reform and greatly limit its use of solitary confinement as have an increasing number of jurisdictions around the country." Yeah, when pigs can fly!
Amnesty International USA, which long campaigned for his release, said that "nothing will truly repair the cruel, inhuman and degrading solitary confinement that the state of Louisiana inflicted upon him."
Woodfox's release was raised at the White House press briefing on Friday. The White House press secretary, Josh Earnest, said: "Scientists tell us that prolonged incarceration in solitary confinement can have a debilitating and long-term impact on an individual's mental health. If our ultimate goal in the criminal justice system is to give people a second chance after they've paid their debt to society we are basically setting them up to fail."
Last month Barack Obama used his executive powers to ban solitary confinement for juveniles in all federal prisons. He has also commissioned a review into the use of solitary in the US.
Too little too late!
The Author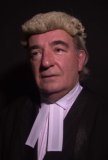 I started my private practice after pupillage in July 1975 at 4 Brick Court Middle Temple. I joined the Midlands and Oxford Circuit and moved chambers in 1986 to 6 Kings Bench Walk Inner Temple. Throughout this time I was specialising in criminal law. I also joined the Irish Bar.
I moved to Birmingham in 1994 to 6 Fountain Court where I stayed until 1996. During my time in the West Midlands, I had a weekly column in the Birmingham Post. I then decided to relocate in the West Country practising from Taunton, where I am still practising.
In 2004 I became accredited by the Bar Council as a Public Access Barrister, and at the same time I took the decision to diversify my practice into general common law. This includes Contract, Tort, Personal Injury, Matrimonial and Landlord and Tenant. Although I accept instructions on motoring matters, I have effectively given up my criminal practice.
I have been in continuous private practice since 1975. As I established myself in the public access field, I set up my own chambers as a sole practitioner in 2009.
I hit the headlines nationwide and made legal history in 1991 when I delivered my final speech entirely in verse. For this tour de force I was dubbed the Barrister Bard. I also made legal history, again, when I called an Amazonian Blue parrot to give evidence in court.
I am the author of three humorous books on the law.
I can be contacted at Combe Ford, Combe Florey, Somerset TA4 3JD (01823 430146) or by email at: david@david-osborne.com.
Article picture: Pixabay.