"I'm Alright, Jack!" -John Boulting (1959)
By Chris Middlehurst
Published on November 22, 2016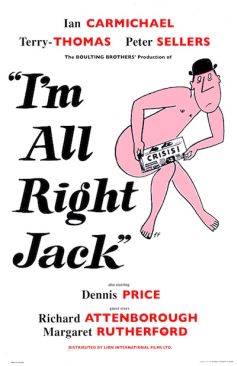 What a gloriously irreverent film this is, so brave in its contempt for people of all walks of life! A middle finger to all strata of English society, this is the kind of film the Coen brothers used to make before they lost their bite: one so hateful and contemptuous of its subjects that you cannot help but admire them for at least being honest. They hate their characters.
What is so wrong with that? Of course, no film exists in a vacuum and I have to admit that the film's marginal sympathy for the aristocratic Englishman Ian Carmichael is one of its few flaws, but then again he himself is presented as clueless and stupid of the way the world works as anyone else.
In Dennis Price and Richard Attenborough's scheme to spark off a strike in order to make a lucrative deal with a Middle Eastern businessman, Carmichael plays the affable but extraordinarily naive Stanley Windrush, an unwitting pawn to sparking the strike. Carmichael plays Stanley as a cheerfully inept member of the ruling establishment who yet assumes that he can progress "as an executive, of course" by virtue of his supposed birth-right to privilege. Indeed, he is loyally backed by his indomitable aunt Dolly, whose gloriously over the top exclamation that her nephew is to become "a worker?!" would give Lady Bracknell a run for her money. Carmichael and the great Margaret Rutherford are joined by a brilliant cast of Bank Holiday afternoon lunchtime legends: the conniving Terry-Thomas, the shifty Dennis Price, the puffed-up Richard Attenborough, and that great bag of British nerves that is John Le Mesurier, pre-Dad's Army fame. And a semi-naked, potato peeling Miles Malleson bookends the film. What could one possibly want more?
Watching I'm All Right, Jack! I am reminded of how few films are as conscious of the ever widening divisions in a class-mad society. In one shot where the workers are lectured on the virtues of good hard work by a man who has never lifted a finger for anyone other than himself, Carmichael beams proudly while the lifer forklift drivers behind him grit their teeth in silent rage.
Perhaps the one character that emerges with the most integrity is the trade unionist Fred Kite, one of the most tormented and conflicted characters in modern film. A representative of the working class who seems more comfortable talking to Carmichael about communist Russia by the fireside, he is a complex and lonely figure played by Peter Sellers, whose performance is a masterpiece in understated exaggeration. Each facial tick and sideways glance is indicative of the intense burning desire of Fred Kite to escape the oppression of the classes that he witnesses every day he goes to work. Unbeknown to many, Sellers in fact also plays the old dying patriarch in the film's opening and then re-emerges later on in the film as Fred Kite. In many ways, this film has many parallels with the more famous Dr Strangelove: the multiple performances by Sellers, the satirical spoof of industrial marketing and rampant consumerism. But whilst that film reflected the tensions of the Cuban Missile Crisis, I'm All Right, Jack! reflects more than ever relevantly the widening gaps between the classes in British society today. And yes, everyone will be cheated in one way or another. Even Aunt Dolly.
The Author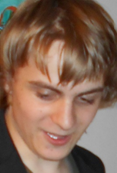 Chris Middlehurst is The New Jurist film review editor. Chris graduated from Leeds University with a BA in English Literature, where he served as President of the LUU Film Making Society and also took elective modules in Chinese, Italian and World Cinema. He currently lives in Leeds and volunteers regulary at the wonderful Hyde Park Picture House, where he urges film lovers to visit if they get the chance!
Article picture: Wikipedia.