Anti-Semitism = Islamophobia
By Lesley Hazleton
Published on January 19, 2014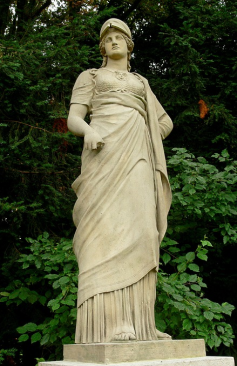 I once spoke to a Hadassah meeting – the Women's Zionist Organization of America. The subject, of my choosing, was "What's a 'nice Jewish girl' doing writing so much about Islam?"
The easy answer to the question I'd self-imposed was "Why not?" A perfectly reasonable answer, perhaps, but not with bigots like Peter King about to begin his witch hunt this week in the form of congressional hearings on the alleged "radicalization" of American Muslims.
The real answer is that it's precisely because I'm Jewish that I find myself writing so much about Islam these days. Because as a Jew, I know the dangers of prejudice. And I can smell it a mile off.
When I hear someone talk about "the Jewish mentality," I know I'm listening to an anti-Semite.
How else stereotype millions of people that way? Just as when I read someone like Ayaan Hirsi Ali talking about "the Muslim mentality," I know — no matter how pretty she is, how soft-spoken, and how compelling her life story – that I am listening to an Islamophobe.
And I recognize that anti-Semitism and Islamophobia are two sides of the exact same coin: the stereotyping of millions of people by the actions of a few. That is, prejudice.
So it's particularly painful, let alone absurd and self-defeating and dumb, to see that some Islamophobes are Jewish. And equally painful – and absurd and self-defeating and dumb – to see that some Muslims are anti-Semitic.
I have no statistics to say what proportion of Jews are Islamophobic or what proportion of Muslims are anti-Semitic (though I could doubtless make some up and throw them out there with such an air of authority that they'd be repeated ad infinitum until they achieve the status of "fact"). But the Muslim Brotherhood, for all the changes it has undergone, still distributes The Protocols of the Elders of Zion. And while anti-Zionism does not necessarily mean anti-Semitism, there is a clear overlap, with a venemous hatred finding its outlet in what is now the more acceptable form of anti-Zionism. So we need to be clear. We badly need it.
"Islam" did not attack the US on 9/11; eighteen people with a particularly twisted and distorted idea of Islam did. "The Jews" do not shoot Palestinian farmers in the West Bank; Bible-spouting settlers with a particularly twisted and distorted idea of Judaism do.
The Quran is no more violent or misogynistic than the Bible. In fact it's less so. If you insist, as Islamophobes do, on highlighting certain phrases, then you should turn around and do the same with the Bible, which you will find ten times worse, with repeated calls for the destruction of whole peoples. Only the dumbest, most literal, hate-filled fundamentalist, Jewish or Muslim, takes the rules of ancient warfare as a guide to 21st-century life.
We have to stop this stereotyping. Now. All of us.
We have to recognize prejudice not only in others, but in ourselves, Jewish or Muslim.
We have to be able to see that the anti-Semitic trope of "the Jews" trying to take over the world is exactly the same as the Islamophobic one of "the Muslims" trying to take over the world.
We have to acknowledge that an Islamophobic Jew is thinking exactly like an anti-Semite. And that an anti-Semitic Muslim is thinking exactly like an Islamophobe.
We have to realize that American Jews need to stand up with Muslims against Islamophobia just as American Muslims need to stand up with Jews against anti-Semitism.
Because Islamophobia is, in essence, another form of anti-Semitism, and vice versa. And it's in the direct interest of both Jews and Muslims — of all of us — to stand up and confront both forms of prejudice.
In the famous words of an anti-Nazi Protestant pastor during World War II:
First they came for the Socialists, and I did not speak out – Because I was not a Socialist. Then they came for the Trade Unionists, and I did not speak out – Because I was not a Trade Unionist. Then they came for the Jews, and I did not speak out – Because I was not a Jew. Then they came for me — and there was no one left to speak for me.
The Author

Lesley Hazleton (born 1945) is an award-winning British-American writer whose work focuses on the intersection of politics, religion, and history, especially in the Middle East. She reported from Israel for Time, and has written on the Middle East for numerous publications including The New York Times, The New York Review of Books, Harper's, The Nation, and The New Republic.
Hazleton was born in England but became a United States citizen in 1994. She was based in Jerusalem from 1966 to 1979 and in New York City from 1979 to 1992, when she moved to her current home in Seattle WA, originally to get her pilot's license. She has two degrees in psychology (B.A. Manchester University, M.A. Hebrew University of Jerusalem).
She has described herself as "a Jew who once seriously considered becoming a rabbi, a former convent schoolgirl who daydreamed about being a nun, an agnostic with a deep sense of religious mystery though no affinity for organized religion". "Everything is paradox," she has said. "The danger is one-dimensional thinking".
In April 2010, she began blogging as The Accidental Theologist, casting "an agnostic eye on religion, politics, and existence." In September 2011, she received The Stranger's Genius Award in Literature and in fall 2012, she was the Inaugural Scholar-in-Residence at Town Hall Seattle.
Her biography of Muhammad was published by Riverhead Books in January, 2013.
Article picture: Minerva. Source: Pixabay